Leasing commercial property is an expensive affair and imagine how much one stands to lose by missing out important dates pertaining to renewals and expiry. Tenants are usually worried about the overpayments to their landlords and the perfect solution to avoid such scenario is to get the lease reviewed and abstracted by an expert who can assist the tenants by sending them reminders about the renewal and the expiration dates along with other cost saving clauses. Complete Legal Outsourcing assists tenants by providing expert lease administration and abstraction solutions.
The FASB had issued guidelines for increasing the transparency and comparation amongst corporations by identifying lease assets and liabilities on the balance sheet and revealing crucial data about Lease Administration and Abstraction activities since leasing is used by several entities. Leasing, in general, is a course of acquiring access to resources, of acquiring financing, and/or of decreasing an unit's exposure to the extensive risks of acquiring assets.
Complete Legal Outsourcing's Abstraction team is a blend of skilled lease abstractors and administrators who use up to date technology clubbed with latest lease abstracting updates that result in substantial savings for clients based across the globe. Complete Legal Outsourcing aims to provide the clients with complete and accurate lease administration and abstraction solutions for delivering substantial cost savings by ensuring all crucial lease information is accessible at the reviewer's fingertips.
Our team assist businesses to accelerate system implementation and assist clients in getting the most from the commercial lease administration and abstraction software. Clients lease abstraction requirements might include preliminary and optional terms, recurrent expenses, previous and upcoming rent for correct FASB reporting, important dates, lease sections, and percentage rent specifics along with breakpoints. We allow our clients complete control over the data they want to be abstracted from the leases, along with choosing every single abstraction detail.
Complete Legal Outsourcing's Lease Administration and Abstraction solutions offer abstraction as an alternative with the primary execution or as a completely independent venture.
Our Lease Abstraction Services include but are not limited to:
Lease Abstraction and Data Management on an ongoing basis
Regular updating of the document
Reporting of Lease Administration and Abstraction at regular intervals
Management of Critical Dates
Preliminary document examination
Customized templates based on client needs
Lease Administration and Abstraction of leases along with related amendments
Uploading documents
Strict quality adherence for all Lease Abstraction and Data Management related projects
Customized templates for abstracting data as per client needs
Portfolio uniformity with top practices
Partner with Complete Legal Outsourcing to avoid paying extra to landlords.
An efficacious methodology for Lease Administration and Abstraction
Our Lease Administration and Abstraction resources are well trained and offer a quality-driven yet economical methodology for abstracting data from commercial real estate leases and non–real estate leases as expected under the new leasing standards and for operational superiority.
Complete Legal Outsourcing has a highly-established a five-step process for abstraction of leases with each step having a matching sub step. The steps are created to abstract high quality data so as to meet the requirements laid down by the new standards.
Lease abstraction five-step process at Complete Legal Outsourcing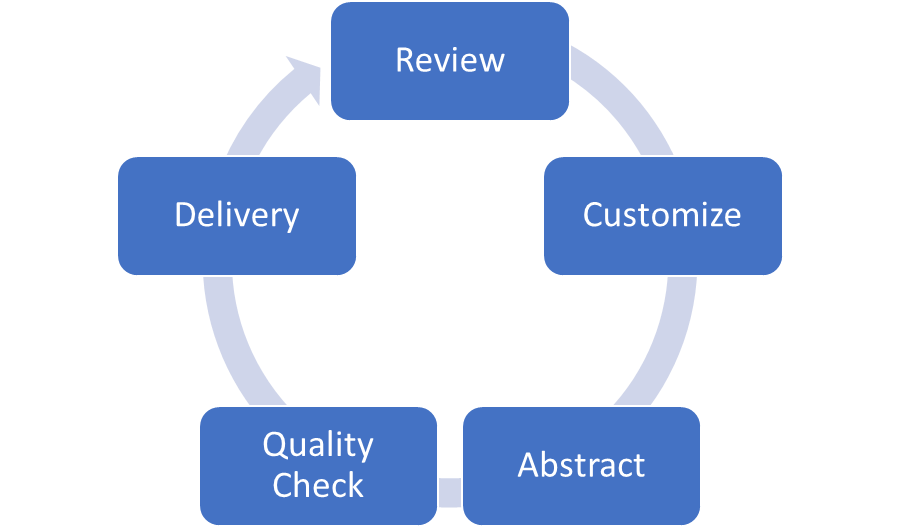 Our Lease Administration and Abstraction process assists organizations in saving time and keeping the clients focused on other fruitful activities. Our abstraction team is proficient in delivering a high-quality abstract containing all relevant information. We are well capable of handling large volumes of leases with wide ranging portfolios without compromising on quality. Our clients have the advantage of customized options which can be altered to meet individual client preferences. Stringent quality checks help us to monitor the complete lease abstraction process.
Complete Legal Outsourcing's twenty-four by seven work environment for Lease Administration and Abstraction is also an added advantage for clients who are hard pressed for time and need to adhere to strict deadlines. We assure quality output that is delivered within the stipulated time frame.
So if you are looking for a reliable partner to outsource your Lease Administration and Abstraction related projects, look no further!. The lease abstracting team at Complete Legal Outsourcing is competent enough to take care of all your lease abstraction projects giving you ample time to focus on other important issues while they do the abstraction on your behalf. Reap the benefits of legal process outsourcing as it provides a double advantage – saves on cost and provides you ample time to focus on other important issues.
In case you would like to outsource your lease abstraction projects, just write to us at support@completelegaloutsourcing.com and we shall take care of the rest.